In 2017, GeoTechnologies and HERE Japan formed a strategic partnership called the OneMap Alliance. The partnership released a version of the HERE Open Location Platform incorporating GeoTechnologies' map data for the Japan region in 2019, and integrated GeoTechnologies' map database into the HERE Platform in 2021. Under the leadership of their new presidents, the two companies are now developing a stronger partnership than ever before here in Japan.
What are the shared visions and developments under which GeoTechnologies and HERE will create the future? In this installment, Hiroshige Sugihara, President & CEO of GeoTechnologies, and Akihiro Takahashi, President & CEO of HERE Japan, discuss this question to reveal the answer.
Combining map data and platforms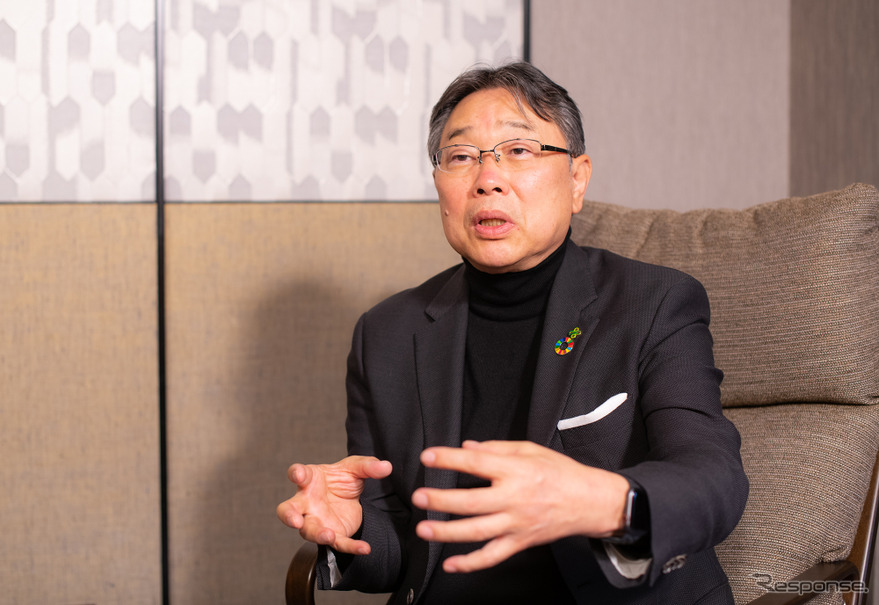 Hiroshige Sugihara, President & CEO (the following, honorifics omitted)Although I had worked with digital data over most of my 40 years in the IT industry, I rediscovered the importance of maps, location information, and other such data upon assuming my role as CEO of GeoTechnologies on June 1, 2021. Map data is distinctive in that it is grounded in points, lines, and planes, which makes it fundamentally different from the databases found in the IT industry. Location information is taken for granted, yet, like air, everyone would struggle without it. I also believe that map data will serve as an important tool that will allow humans and nature to coexist over the next 10 to 20 years. Specifically, this map data will open the last uncharted territories required to create a world in which the social activities that burden the natural environment will take place in the metaverse, and thereby allow nature and humans to coexist in the real world.
When I initially assumed my current position, I learned that the CEO of HERE headquarter, the core of the OneMap Alliance, was my boss when I worked for Cisco. And I discovered that Mr. Takahashi headed HERE Japan as someone who had been active in the IT industry at Microsoft at the same time I worked in the industry at Oracle. I was fully reassured to see my compatriots collaborating as my partners in working with map data.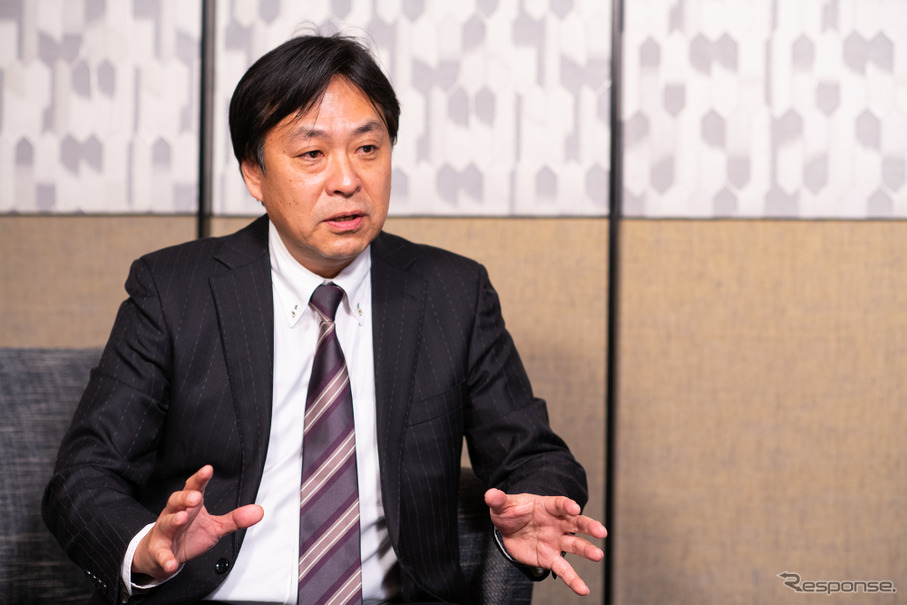 Akihiro Takahashi, President & CEO, HERE Japan (the following, honorifics omitted)As you know, HERE's predecessor was Navteq. As a venture company from the West Coast of the United States, like GeoTechnologies, Navteq got its start in creating map data for car GPS systems. We were later acquired by Nokia and the Big Three German Automakers. Although we probably had the option of creating our own map data for the Japanese market, as we did for the global market, considering that GeoTechnologies already had a wealth of data that covers over 7 million km of driving distance, we would have needed to invest significant time and resources to catch up if we were to start from scratch. We would also have faced Japan's unique complexities and peculiarities. So, we left the maps to GeoTechnologies, and shifted up one tier to another of our strengths, namely location services.
We used to develop our own car GPS services specifically for each auto manufacturer and each car model. But taking development efficiency into consideration, we felt that this approach would eventually become obsolete due to the number of models and differences in price ranges. We also felt that the automobile industry would likely head in a new direction, where certain aspects will be standardized as platforms and others customized based on the characteristics of each car. In this respect, we feel that our partnership has made progress in creating a new, robust flow, namely by bringing together GeoTechnologies' maps, data collected from various areas, and other assets with our platforms.
SugiharaI feel very much the same way in this regard. As one of my formative experiences in California, I recognized that the success of the automotive industry was due specifically to global standards. HERE is active around the world. Whereas we have a lot of data on Japan. I would love to contribute to Japan's automotive industry based on the successful examples of data handling and use that you have cultivated on a global basis. And we intend to do so through this strong bond.
For example, as a solution to the logistics system crisis
TakahashiThere are many different map formats. And Japan's formats are unique, as are those of Europe and the US. But if we can standardize these formats, maps could potentially emerge as platforms that enable change and transformation, and that add new value. As autonomous driving come to account for a considerable share of the vehicle market in the future, if we were to first enable integrated development and management, and then enable work that adds specific qualities for each region, we could dramatically reduce the number of development processes required for map formats and the autonomous driving technologies that rely on these, for example. Which raises the question, how do we make use of the extra time left over after reducing this burden, and how do we develop software that realizes high value-added services?
For example, there are currently individual concepts and standards for how car GPS systems and smartphones interconnect within specific vehicles, which can exist as a mish-mash within a single car. Moreover, one of the major roles and purposes of maps (car GPS systems) today is to provide guidance to drivers. Yet as we move into the age of autonomous driving in the future, maps will need to give orders to vehicles. Based on the concept of location services as a platform, we can seamlessly connect everything by smoothing out the various differences. And this will in turn enable various businesses. This is exactly why we are placing our focus on a higher tier, and shifting from map makers to location service providers.
SugiharaThat is exactly how I feel, and the direction I hope to take. One of the reasons why we will work with HERE is that we do not want to isolate Japan as an outlier. In the future, the automotive industry will also be required to provide content and services for driving, which is why we hope to introduce the services HERE has possessed and experienced thus far to our customers in Japan as GeoTechnologies. By doing so, we will be able to benefit our Japanese customers with services, contents, and experiences that are at the forefront throughout the world, all while seasoning these with the local advantages of Japan. As we extend our philosophy of "Love Our Customers" along with our vision of "How to make the Earth happy," I believe we can meet the needs of our customers together with HERE.
TakahashiWe also aim to reflect the experiences, algorithms, and data we have accumulated thus far into other industries besides just automobile manufacturing. Although we have already started demonstration tests with GeoTechnologies, we are particularly focused on fleet management, which covers vehicle and operational management, and logistics optimization. While it is usually important to simply arrive early, in other words shorten ETA (Estimated Time of Arrival), in these areas, this is not necessarily true for every business.
For example, delivery methods vary greatly depending on the purpose, as is the case with wines, which are delivered over routes with less vibration whenever possible to prevent breakage, even if they take longer. To achieve this capability in Japan, we need GeoTechnologies' maps. Along with being able to alter routes ahead of time in consideration of vehicle size and height restrictions, using GeoTechnologies' maps will also allow us to alert drivers and guide them on other optimal routes. Using maps provided by experienced partners is a must for raising the quality of business and realizing a sense of satisfaction in Japan. We can then feed the results back globally. And I expect that this capability will also apply to various industries.
SugiharaThe automotive industry, which has supported us over the 28 years since our founding, is now in transition. So, this is also a time of change for us. Amid this transformation, we will improve the level of service we provide to drivers by exchanging more information. Japan is also facing what has been termed the logistics system crisis of 2024. Which is why we are considering the release of a smartphone logistics app this summer. I think the question is, how do we deploy these services in Japan by utilizing HERE's solutions? I hope that we can deliver them in an ideal format with a sense of speed.
A comprehensive map that will function anywhere in the world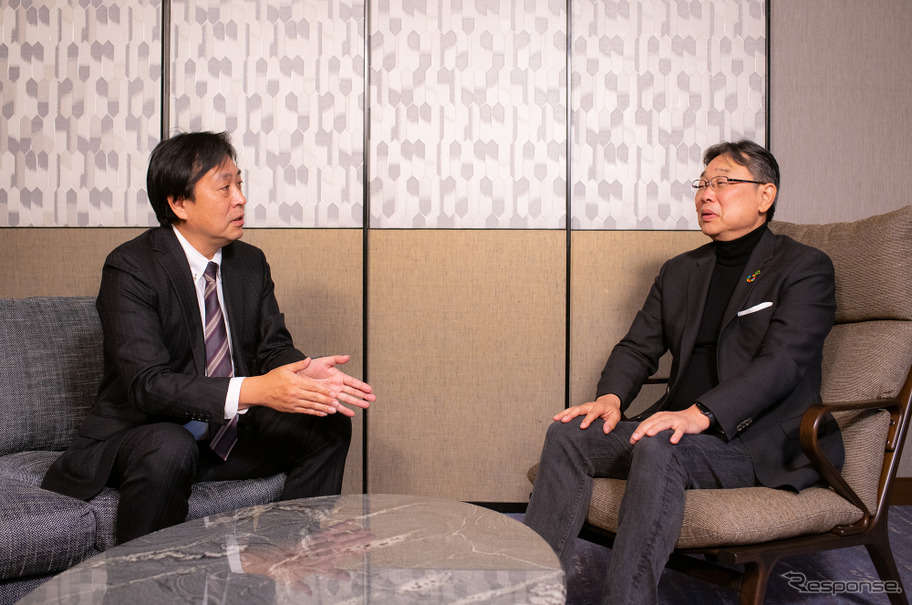 TakahashiHERE has established a presence in Europe, to some extent, where our strengths lie in meeting the needs of inbound tourists. Outside Japan, we offer a free mobile map app called HERE WeGo. Anyone who is familiar with this app, though, faces problems since they cannot use it when coming to Japan as they normally would, for example when searching for addresses or searching for nice restaurants to go to. Which is why we will include various travel support apps based on GeoTechnologies' maps. Our first step will be to enrich the experience of inbound tourists upon arriving in Japan. Conversely, we would also like to provide users who are familiar with those of GeoTechnologies' detailed services cultivated amid Japan's smartphone culture with a seamless experience. We will achieve this by inserting our platforms and services into the gap that exists between the different infrastructure found in other countries and Japan. So, I think that our partnership with GeoTechnologies will prove to be fully mutual, and continue over the long-term.
SugiharaI have always said that what we are working on is the metaverse, but as various industries enter the field, maps and platform building will serve as the underlying support for all of this. I therefore believe that our very existence will form the basis of the metaverse into the future.
TakahashiThe term location information services may not be familiar to people yet. And although various solutions have already been established in Japan, there are in fact no end-to-end solutions here. When it comes to logistics, for example, problems will occur if any one step in the process is disrupted, whether during shipment by sea or air, delivery to the warehouse, transfer to the distribution center after the truck arrives, or ultimate delivery at the local destination. Yet it is impossible for each of these points to be connected along a single line by one company.
In addition, each shipper possesses different pieces of information, which means they require a system that can ensure the safety of all this data. We must therefore strictly define various concepts regarding standards that unfailingly prevent leaks, as well as the handling of personal information and confidentiality. If we know where loaded ships are, when they will arrive based on currents, waves, wind, and other conditions, and how specific volumes of cargo will actually be delivered in a distinct manner, we can then prepare. We therefore need a platform that smooths over these issues, as well as something that will tie different services together.
SugiharaI think that what you are talking about is what the IT industry refers to as ERP (Enterprise Resource Planning) and SCM (Supply Chain Management). Proposing individual services to corporate customers is now out-of-date. Today, we must provide comprehensive services.
GeoTechnologies has more than 10 million business customers, including automotive industry customers, location information startup company customers, and end users like MapFan and TRIP->MILE. We believe that HERE's solutions are highly compatible with our maps. And once we have mapped the interior of every building, we can probably go ahead and call this a metaverse. From our point of view, our ability to create comprehensive maps that function anywhere in the world, and that maintain the validity of our customers' intellectual property and investments wherever possible, is what will set us apart from other companies.
Metaverse will play a role in business-use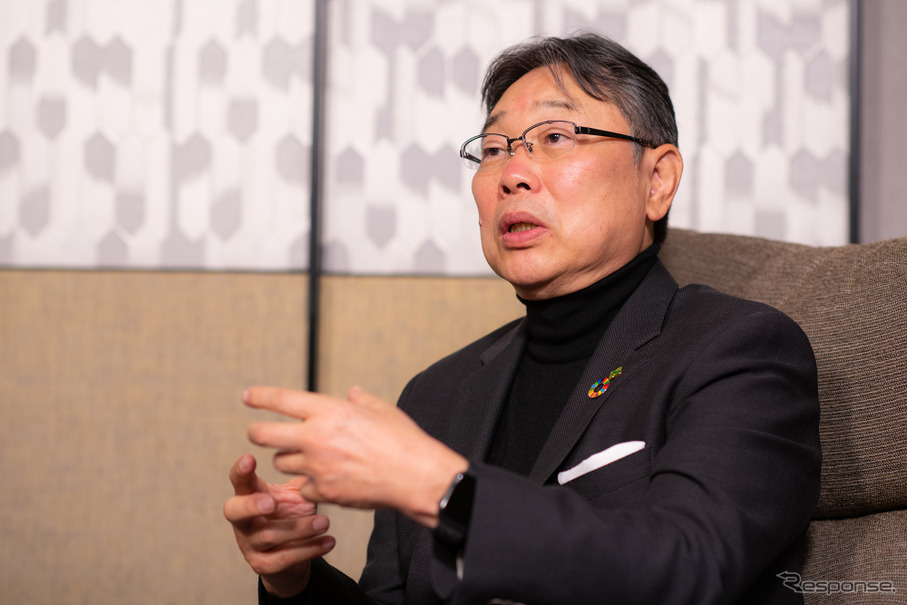 SugiharaAs for ecommerce, we offer a well-received cloud subscription app called "Address Cleansing," which perfectly matches addresses for doorstep package drop-off and other aspects of the last mile. Likewise, we foresee businesses that will connect to logistics network services beyond by combining this app with HERE's technologies.
TakahashiWe spoke about the metaverse earlier, but this world is actually already becoming a reality. In the gaming world, for example, players experience a difference between the sense of reality from fighting in an elaborately rendered building in Manhattan, New York, and that from playing in a virtually created city. In other words, worlds already exist today in which you play a character in a real sense within games and simulators. So, this means our two companies should take over this market. Another is worlds in which you purchase items during online shopping by picking them up with your avatar, instead of by clicking on them. Which allows you to shop as if you were playing a game. These worlds are already becoming a reality overseas. I don't think everything will become this way, but there is value in also ensuring that everyone can have the same experience regardless of where they are.
SugiharaI think the world of the metaverse will also play a role in business-use. And I believe the movement towards reducing CO2 and achieving zero emissions will serve to increase labor productivity. If it takes 10 days for one person to do a job, for example, 10-days' worth of CO2 will be emitted. So, by simple calculation, if you can do the same job in 3 days, you can reduce 7-days' worth of CO2. If we had extremely detailed maps of logistics warehouses and shopping malls, and didn't have to move from place to place, we could go in remotely and use avatars to pick up items, as well as manage a variety of situations. I believe that considering how labor productivity will increase lies along the same track as moving towards zero emissions.
Another is that if we are eventually able to plot on a map which areas are emitting more CO2 and which are emitting more oxygen, we will be able to buy and sell emissions credits and offsets. Enabling this would also likely allow Japan to catch up with global trends. This is kind of a grand idea, but technically it is possible. All we have to do now is take action. Which is why I would like to deploy these kinds of solutions while maintaining our strong tie-up with HERE, and transform these concepts into services that ultimately make the Earth happy.
Solving challenges from the same perspective as customers, partners, and data owners
TakahashiEven with the pandemic, the flow of people is monitored to see where and what kinds of people converge, right. As this concept further evolves, local governments will likely come to possess data on the types of disasters that occur, and the kinds of areas where they do so frequently. In order for them to make use of this data, we must develop solutions together with those who face these challenges from the same perspective. In the past, our business model was based on receiving payment for the work of vendors, but in the age of the metaverse, this relationship will likely become less hierarchical. The actual activities intended to earn money will transform into ideas and eventually produce value.
If we can materialize our range of knowledge, I believe we will also be able to consequently provide valuable businesses when the world of the metaverse arrives. We must therefore tirelessly continue to think about and challenge the ways in which we can contribute to the market and society. And I am really looking forward to this.
SugiharaThe alliance between GeoTechnologies and HERE will continue to develop new services for Japan into the future, but I am sure many of you who are reading this conversation face the problem of "having data on hand, yet not knowing how to make use of it." I hope you contact us regarding these kinds of concerns. Having worked with data in the IT world for many years, I believe we can help you solve your challenges and problems.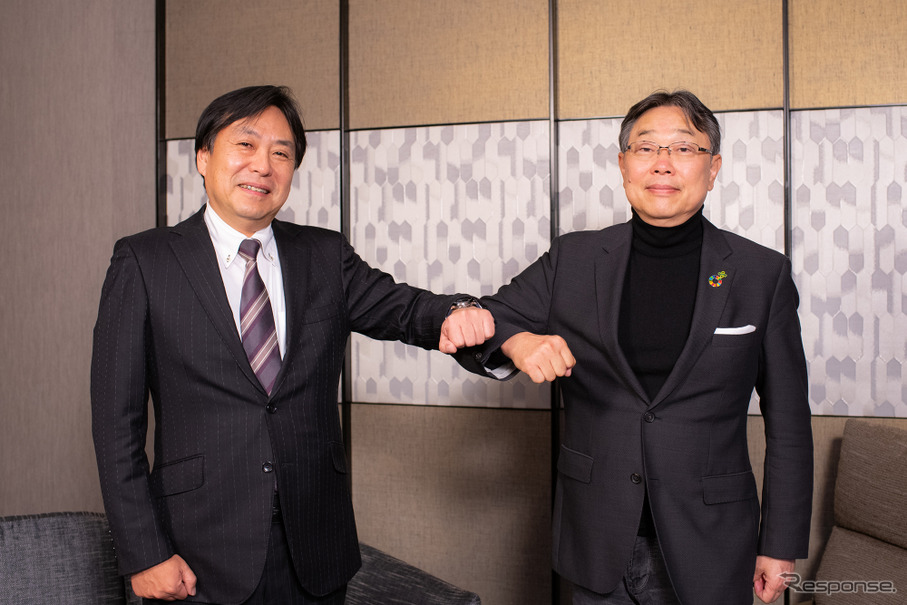 ※この記事の日本語版は こちら 。